A clean eating menu (for beginners) is simple enough to put together when you know what clean foods are. If you are unsure of which foods are clean, check my post Clean Eating Shopping List.
Please note that my clean eating food list may be different from many others that you have looked at.
Meat is my primary protein source. I promote that others eat it as well, because meat, especially beef, provides a wide variety of nutrients.
There are no grains, because they cause inflammation in many people. Ditto for rice.
You also won't see legumes, because meat is better quality protein.
I firmly believe in cooking my families meals, eating fresh fruit and veggies while they are in season, and intermittent fasting to improve health. In fact, I just finished a 5-day fast and I felt so good that I'm doing another one!
Hello and welcome to Fearlessly Holistic
My name is Irma and I want to share my journey to improved health by eating whole foods, moving my body and eliminating stress as much as possible.
It is my hope to inspire you to make daily changes.
Why? Because eating fresh, seasonal food and getting some sunshine is the best way to increase longevity. But you do not want just a long life.
You want a quality long life.
My blog posts are my opinion and the results of things that I have tried that either worked for me or didn't. My opinions are for informational purposes only and are not intended as medical advice. Medical advice should always be obtained from a qualified medical professional for any health conditions or symptoms associated with them. As well, there may be affiliate links in this post. Read more here.
Clean Eating Diet Plan Menu
By diet, I mean a type of menu, not weight loss. But don't be surprised if anyone in your family loses weight eating clean and healthy foods.
Most processed foods contain ingredients that are not technically food, like vegetable oils. Because seriously, you can't squeeze corn and get corn oil. It requires industrial solvents.
These "foods" cause inflammation in your body and ditching them from your daily diet means automatic weight loss of several pounds.
To create a clean eating menu:
You will need a list of foods that your family already likes. Fill in any gaps with new menu items or recipes that you want to test. I have ideas below.
Tell your picky eaters that they must eat at least half of their served portion and that they must give reasons for not liking foods. "I don't like it" is not enough information and sometimes kids change their minds so don't write off one meal after testing it once.
Trust me, perseverance is key to getting your family on board with healthy eating.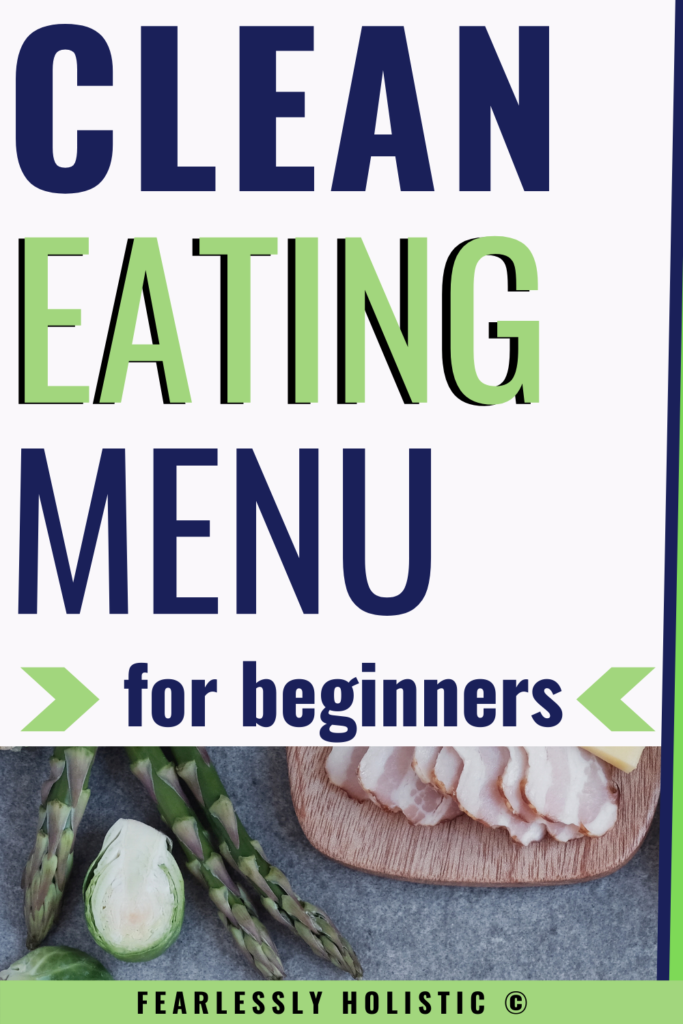 Quick and Easy Clean Eating Breakfasts
I will be the first to say that I am not a breakfast eater. My go-to is keto coffee (see how to make below). I'm down for some solid food later on, like brunch-time.
If you have kids like that, consider giving them a small amount of food and a bento box lunch. Pack it with good foods that are small or cut up so your child can snack at recess, if that's allowed at their school.
Breakfast Frittata
This is a good food to have your kids help make. If they pick the ingredients, from healthy choices, they are more invested in eating it. Use silicone muffin liners if you have them. Otherwise, oil the compartments well.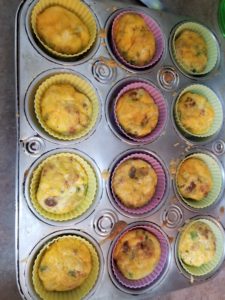 To make 12 (standard muffin pan): 10 large eggs, salt and pepper. Mix well.
To this base, add in whatever you think your family will like: chopped bacon, ham, or cooked sausage; sliced spring onion; chopped green or red bell pepper; shredded cheese; spinach; broccoli; cooked chicken; taco meat; salsa; sliced mushrooms; sun-dried tomatoes.
Tasty combo's:
Ham and shredded Swiss cheese
Broccoli and aged cheddar
Chicken, cream cheese and buffalo sauce
Diced cooked breakfast sausage, chopped spring onion, and aged cheddar
Mushrooms, peppers, and mozza cheese
Add toppings to the cups first, then pour in beaten eggs around the ingredients. Bake 15 to 20 minutes at 350F. They freeze well, if there are any left.
Keto Granola
This should satisfy your cereal eaters while they transition to clean eating. Serving size is 1/4 cup, because the nuts and seeds are higher in protein than commercial breakfast cereals, so it's more filling.
I don't have my own recipe because this one from Wholesum Yum works great and I always have a variety of raw nuts and seeds in my deep freeze (so they don't go rancid). I don't use erythritol by itself. Instead, I use a monkfruit blend (Lakanto).
Keto Coffee (for the grown-ups)
Based on the concept for Bulletproof coffee, you are adding quality fat to your cup o' joe. The fat keeps you full longer than milk or half-and-half would.
And if you add coconut oil/MCT, you get a boost of fat for your brain. MCT (medium chain triglycerides) can cross the blood-brain barrier, bringing some caffeine from your coffee with it.
Use Keto coffee to eliminate brain fog and give your brain a productivity buzz.
If you are new to this coffee drink, use smaller amounts of the fats, since the fats can challenge your digestive system. Start with 1 tsp. of each fat and move up from there.
For every 8 oz. mug of coffee, add 1 Tbsp. each of grass-fed butter and coconut or MCT oil. As well, add 1/2 Tbsp. heavy cream (35% fat). Use a frother tool to combine the fats and coffee. No sweetener is needed and the result is a latte-type drink. Try it!
PS. If you can't get grass-fed butter, use organic. Remember that the fat is feeding your brain, so use the good stuff. You can mix and match the fats if you are missing any.
Simple Clean Eating Lunches
When lunchtime rolls around, you want to be able to put together a simple meal that is nutritious, filling, and doesn't take a lot of time. The following lunch ideas will fit all of these requirements.
Lettuce Wrap
You can still eat sandwiches for lunch while clean eating, but re-think the ingredients you are using. If you are transitioning your kids to clean foods, use spinach wraps with filling instead of bread sandwiches.
Then switch over to lettuce. It's mentally easier for children to move forward with new foods one step at a time.
Buy a head of leaf lettuce, and wash it well, then use a salad spinner to remove excess water. Store it wrapped in a clean dish cloth and store in a plastic bag in the refrigerator.
Take a large leaf to wrap your sandwich ingredients:
Ham and cheese
Egg, chicken, or tuna salad
Chicken, bacon, and tomato
Leftover cooked meats like steak and tomato
Cooked chicken and avocado
Chicken or Tuna Salad
I recommend using the cleanest mayonnaise that you can afford. I use Chosen Foods Avocado oil mayonnaise from Costco, but use olive oil mayo or make your own easily, with this recipe from Downshiftology. It tastes so much better than the jarred product made with industrial soybean oil. #yuk
Cut your chicken or hard cooked eggs into small pieces, add chopped spring onion and salt and pepper, to taste. Add enough mayo to get the texture that you want. If using tuna or canned salmon, drain well before mixing with other ingredients. Can use in a lettuce wrap as well.
Bento Foods
A bento box is a small Japanese lunch box with compartments for small foods like sushi rolls. They usually come with a set of chop sticks, a spoon, and fork.
If you have square or rectangular food containers (like glass or plastic with snap lock lids), you can use mini cupcake liners to separate different foods for picky eaters.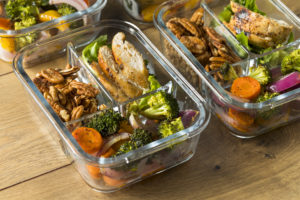 Great foods for bento lunches are:
Sliced deli meats, rolled up with cream or sliced cheese. Slice into pinwheels.
Small finger foods like grape or cherry tomatoes, nuts, berries, sliced cucumber
Cubes of cheese
Hard cooked or deviled eggs
Leftover Frittata
Container with lid, of egg, or tuna salad + lettuce leaf to wrap it in.
Small container of guacamole or mashed plain avocado (Costco carries the Wholly Guacamole brand, but shop around). Dip carrot or celery sticks in it.
Mix and match food items. Better yet, get your kids to help with the choosing and prep.
Filling and Healthy Clean Eating Dinners
When it comes to dinner, it is actually pretty easy to stick to a clean eating lifestyle. This is when people tend to cook the most often, so as long as you are using whole, fresh ingredients, you should be fine. But here are a few dinner ideas to help get you started.
Salad and Protein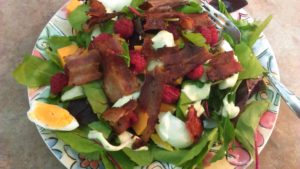 While just about any type of salad works great for a clean eating lifestyle, you do want to try to stick to salads that offer a little more protein during dinner.
This should be a bigger meal than lunch. You do not want to be starving at bedtime, or wake up in the middle of the night ravenous.
This salad is great because you can choose any greens you want, then have lots of protein. Try cooked chicken, bacon, cheese (cubes or crumbled Feta), avocado, berries, sliced red onion, or whatever you have on hand.
Try your hand at making a homemade vinaigrette. You can buy a carafe/cruet with liquid measure markings or do like I do and use a half pint canning jar.
Add to a container with a tight fitting lid: 1/3 c. vinegar, 2/3 cup quality oil, salt and pepper plus 1 Tbsp. Dijon mustard and 1 clove or equivalent of crushed garlic. Put the lid on firmly and shake to combine.
For vinegar, try balsamic, rice wine, red wine, or a fancy one from those boutique stores (i'm partial to champagne vinegar). I only use Chosen Foods avocado oil, but have purchased fancy olive oil blends just to jazz things up.
Protein and Veggies
For a well-balanced meal while clean eating, choose a protein and a vegetable or two. Now is the time for grilled meats!
You can choose any protein you like that fits the clean eating diet, such as grilled chicken, salmon, shrimp, or lean steak. Or bake up a big batch of chicken wings (sugar free!).
Choose any types of veggies you like, or whatever is in season. Try steamed broccoli, roasted cauliflower, or garlic green beans. Yum!
Chili
Chili is a wonderful thing to cook at home when you are following a clean eating lifestyle. It is easy to make and has a lot of room for flexibility. You can use ground beef, pork, turkey, or chicken. I prefer a mix of ground beef and pork.
Instead of beans, add lots of veggies. The seasonings are up to you and depending on how hot you like your chili. Serve it alone or with some hand-shredded cheese and full-fat sour cream.
Stir-Fry
This is another simple dinner that can be filling and gives you room to make it your own. While you don't want to use a lot of processed ingredients with a clean eating diet, if you just get a bag of frozen veggies, that should be okay.
Just try to use fresh ingredients as much as possible.
For stir-fry, cook the meat first and remove it to a plate to keep warm. Then stir fry your veggies. When they are almost done, add the meat back in to re-heat. Try this recipe from Noshtastic.
Clean Eating Desserts
When it comes to switching to a healthier diet, people are often the assumption that they can no longer treat themselves. However, this is not true at all.
You can still enjoy desserts, it just might be something a little different than what you are used to. Here are some clean eating desserts to try out.
Low Carb Cheesecake
A personal fave at our house, this can be whipped up in less than 15 minutes.
1 8 oz. brick of full fat cream cheese, at room temperature. Cream until smooth before adding other ingredients
1/2 cup sour cream
1/4 cup liquid heavy whipping cream (not whipped)
1/2 lime, juiced or 2 Tbsp lemon juice
1/4 c. sweetener (I use lakanto monk fruit blend)
1/2 tsp. vanilla
Mix well to combine. Scoop into serving dishes. Lick the beaters…
Dark Chocolate Fruit Bites
This is a really fun dessert that everyone in the family will enjoy, but that isn't too difficult or too sweet.
Not only is dark chocolate allowed in clean eating when you pay close attention to the cacao content, but it provides good antioxidants for you. The higher the cacao in the dark chocolate, the less preservatives in it. Try to find 73% or higher cacao if you can.
You just need to melt the dark chocolate, then pour small amounts of the chocolate onto wax paper. Before the chocolate hardens, top it with some chopped nuts and small pieces of fruit.
Fat Bombs
A low carb staple, there are literally thousands of recipes on the internet, from super easy to fancy-schmancy. They were created to help Keto-ers to get extra fat that aids in weight loss. Fat keeps you full so you eat less and less often.
Fat bombs can be sweet, like the recipe below, or savory like mini cheese balls. Check this recipe for inspiration from Joy Filled Eats.
A basic recipe for a sweet fat bomb is:
1/2 c. each – coconut oil, cocoa powder, and nut butter (any flavor)
2 tbsp. sweetener, or to taste
Can add chopped nuts. Or layer the chocolate mixture with peanut butter to make peanut butter cups.
Combine in a small saucepan. Heat until everything is melted and mix well to combine. Portion into candy mold or silicone muffin cups (is there anything silicone muffin cups can't do?). Chill until hard.
You have to eat this kind right from the fridge or they will melt all over you.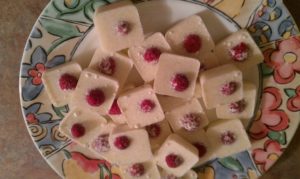 Another kind is:
1/4 c. each coconut oil and butter
4 oz. cream cheese
2 tbsp. sweetener
1 oz. fresh lemon juice
berries
Mix with a hand mixer until thoroughly combined. Portion out and top each portion with a berry. I used raspberries for mine. Eat before it starts to melt.
I bought the candy mold at Michael's.
Conclusion
Well, how was that? It's not too complicated to put together clean and healthy food into tasty combinations. You probably like most of these foods, so make a list of what you like and what you want to try.
And search the internet for clean recipes for your family favorites. At our house, everyone has two or three foods that are never an issue…no one complains about them. When you find out which foods those are in your family, add them to your menu a couple of times a month.
Holism targets overall wellness, and when we are well, we only get better with age.
Please share this post with anyone who can benefit from it. Sharing is caring!
And follow me on Pinterest!
Until next time, here's to our health!
-Irma