Clean eating on a budget…what could be better? Today we will look at what to eat to get the best nutrition for less money without sacrificing quality.
It is possible to feed your family quite well on a limited income…if you plan ahead a bit. Follow this guide and start today!
Hello and welcome to Fearlessly Holistic.
My name is Irma and I want to share my journey to improved health by eating whole foods, moving my body and eliminating stress as much as possible.
It is my hope to inspire you to make daily changes.
Why? Because eating fresh, seasonal food and getting some sunshine is the best way to increase longevity. But you do not want just a long life.
You want a quality long life.
My blog posts are my opinion and the results of things that I have tried that either worked for me or didn't. My opinions are for informational purposes only and are not intended as medical advice. Medical advice should always be obtained from a qualified medical professional for any health conditions or symptoms associated with them. As well, there may be affiliate links in this post. Read more here.
*Rant Ahead*
NOTE: If you have visited here before, you may (or may not) know that I DO NOT advocate for eating wheat, grains, legumes (dried beans or lentils), rice, potatoes or corn.
And I am totally against low fat food products, which are full of sugars and starches. #yuk.
These foods caused more problems than they solve. You can safely cut them out of your diet with no ill effects.
Dietician's encourage people to eat GMO foods like corn, soy, and wheat which I think is is irresponsible.
It is made worse when you know these so-called professionals are getting kick-backs from cereal companies to undermine people's health. #unethical.
So my blog posts are all about clean eating without GMO's or unhealthy additives.
End rant.
Eating Clean On A Budget for Beginners
One of the big concerns when people consider eating clean – or eating healthy in general is cost. Grocery prices have gone up so much in the past few years; it's hard to find an extra $100 in the budget to spend on healthy food.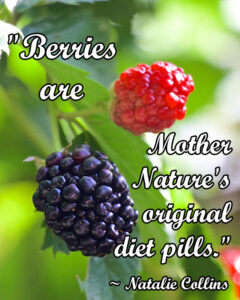 Shop Local
Find your local farmers market and scout out farm stores in the area. They are a great source of local produce, diary, and eggs and if you're lucky, even meat.
Since these items don't need to be trucked in from across the country (or overseas), you're getting fresh, high quality food at a decent price.
CSA (Community Supported Agriculture) boxes are another great source of local boxes.
You buy a share of a farmer's produce for the year and end up with a box of assorted fruits and vegetables throughout the growing season.
Go to http://www.localharvest.org/csa/ to learn more and find farms in your area that participate.
Eat In Season
Eat the food that's in season any given month.
Again, it will be cheaper, both in the grocery store and at the farmer's market, but also be fresher. Plus there are additional benefits to eating in season.
The food tastes better since it is picked in its prime season and it's better for the environment when food doesn't have to be picked early and shipped across the country.
Make It From Scratch
We've lost the art of making things from scratch in the past few decades. We spend our hard earned money on sodium free, organic chicken broth instead of boiling up the bones from the chicken we had for dinner last night and making our own.
Learn to cook things from scratch.
Cook your own soups and stews from scratch and make it a goal to learn to make one new homemade thing each week. Try your hand at making homemade barbecue sauce, ketchup, and taco seasoning.
Not only will you save money, you also get full control over the ingredients.
Grow Your Own
Turn part of your yard into your own personal grocery store. It is very easy to grow your own lettuce, tomatoes and cucumbers. Give it a try. You can even do this in containers on your patio if you don't have much of a yard.
Or get one of these units.
Check your local hardware store or growing center for alternative ideas for small space gardening. Even just one planter of lettuce allows you to enjoy fresh picked!
Growing your own produce is even possible in an apartment.
Grow some herbs, have some sprouts sprouting and make a growing salad bowl. You can grow spring greens in a pot or bowl in the kitchen window and enjoy a nice bowl of fresh salad every few days.
As an added bonus you get outside and learn a lot more about where you food comes from and what it takes to grow healthy fruits and vegetables that are good for our bodies.
This is also a great project to work on with your kids, who love digging in dirt.
Buy In Bulk
One word: Costco
If you have this bulk food warehouse nearby, consider purchasing a membership. Costco seems expensive because you are buying bulk.
But trust me, Costco has superior quality food compared to many bulk or discount stores.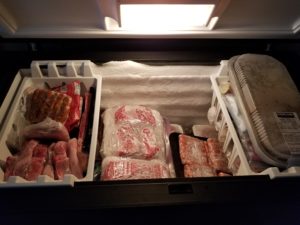 Costco brings in lots of seasonal produce, a huge selection of bulk frozen meats (like chicken breasts), and packs of 5 dozen eggs. It's clean eating heaven!
They also stock low-carb/keto foods, which is pretty clean for the most part. And you can shop online.
And, if you can, purchase a chest freezer while you are there (if you don't have one already)
A deep freeze will help you take advantage of deals on meat.
I cannot recommend this highly enough. I have a 9 cubic foot freezer and it is full of meat from Costco. We go there once a month.
My local grocery store had awesome deals on beef roasts all winter and I bought two every time I found them for cheap. Last fall, I bought 6 whole pastured chickens to eat over winter. A chest freezer helps…a lot.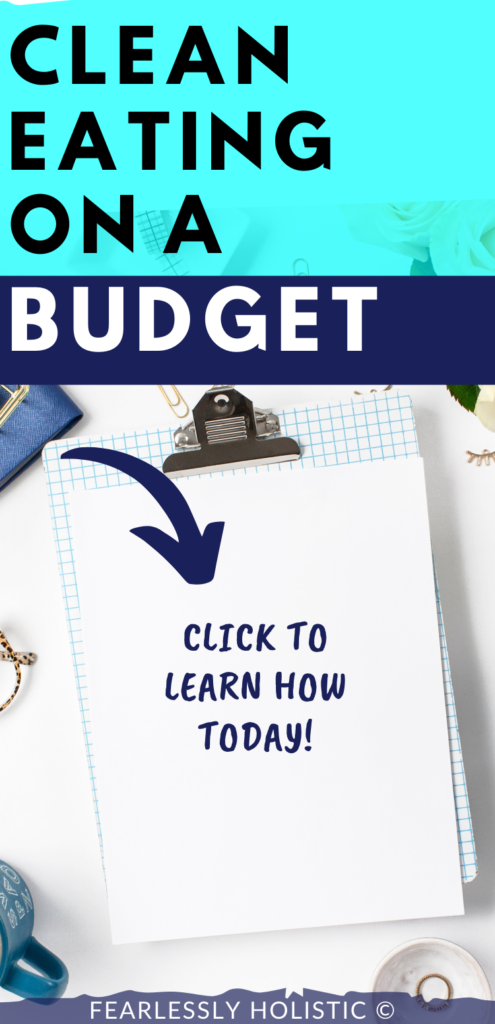 Tips for Shopping for Clean Eating
Clean eating is going to require getting a lot more ingredients and cooking at home, so your grocery budget might look a little different at first.
Keep in mind that a lot of ingredients you get seem expensive, but last more than one meal.
Overall, you actually send up saving money when you aren't buying processed and convenience foods, and eating out a lot less.
Avoid Buying Pre-Made Foods
Buying pre-sliced mushrooms may appear to be a time saver, but it certainly is not a cost saver!
I mostly use mushrooms in cooked foods like spaghetti sauce, so I get bags of whole mushrooms (discounted for quick sale!), slice them into zipper bags and freeze for later.
I also do this for green onions that go into cooked egg dishes or tuna salad.
You don't have to freeze everything, but you can freeze a lot.
I buy a big block of cheese and shred it myself. It also goes into the freezer in a zipper bag.
Mozza is the only pre-shredded cheese I buy because I need a certain kind for Fat Head pizza. FYI Fat Head pizza is the most popular low carb pizza recipe…ever.
Don't Worry About Food Fads

Being on a clean eating diet doesn't mean you need to worry about choosing those magical "super foods".If you buy fresh, seasonal produce you will automatically be eating super foods anyway.
Super foods are simply foods that have a high nutritional content. The more specialty ones are expensive and not required for a well-balanced and healthy diet.
Buy Bulk Foods In "Chunks"

Buying in bulk is a good way to save money for any type of diet, including clean eating. But don't feel like you have to buy everything in your first shop.
It will be more cost-effective to try some new foods and see how your family reacts to them. Try buying a large pack of ground beef, stew beef, chicken thighs, and pork chops or pork tenderloin to begin.
Start serving it, watch for reactions or concerns, and if all goes well add those foods to your menu.
My picky eater decided to give Ketovore a try, with me, over this past winter. The kid who would not eat anything but chicken and pasta is now eating primarily beef and nothing else.
One of our favorites is adding stew beef to a slow cooker with Bbq sauce. 9 hours later…dinner is served. How easy is that?
Need ideas? Try these from Livestrong..
Meat is the number one food item to be bought in bulk.
It is also the most nutritious so don't feel that you must have meatless meals on a budget.
Once you get a bit of clean food inventory in your home, shopping will be for fresh dairy and to top-up your stores.
Eat Meat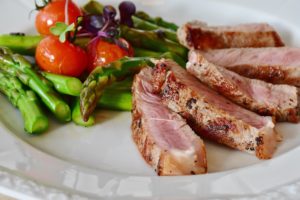 People will tell you that meat is expensive. What they don't tell you is that meat, especially beef, is nutritionally superior to most other foods.
I am not saying that you must eat meat, only that it is good for your body. You do you.
Vegans would have you believe that plant protein is the same as or superior to animal protein, but it just isn't. Which is why most vegans are emaciated looking after a couple of years. They are starving on a cellular level from lack of nutrients.
In fact, you can easily survive on meat and nothing else. We are doing this in my family right now, but here are posts from others: Shawn Baker, Mikhaila Peterson, and these guys.
I think carnivore is perfect for winter, when you are very limited in produce.
I am the first to admit that when spring arrives, I start eating salads again. Costco has a super tasty Caprese salad…alas, not during the Covid-19 shut-down.
Clean Eating Grocery List for Beginners
When you're just starting out with clean eating, you may be intimidated on where to start. A good rule is to shop the perimeter of the store. This is a simple list for beginners. Adjust it for what's available in your area.
Breads:
Avoid wheat and wheat products. Bread contains high fructose corn syrup, soybean or canola oil, and occasionally, mystery items labelled "flavoring" or "spices". Therefore they are not clean.
But fear not!
These days there are new hybrid foods like cauliflower wraps and pizza with cauliflower or broccoli crusts. Please read the ingredients before purchase, but by all means if it looks clean, go for it.
And if you noticed my link above to Fat Head Pizza, there are plenty of adaptations. Try low carb danish or bagel dogs. My cheese danish look kind of sad (I tried a different recipe) but they were super tasty.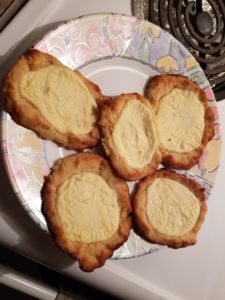 Dairy & Non-Dairy:
Milk – Raw milk is the cleanest milk but may be hard to find. Organic, full fat milk is the next best thing. Watch for "stabilizers" in heavy cream.
Yogurt – Always opt for plain Greek yogurt with minimal ingredients and active bacterial cultures.
Cheese, in moderation only. Aged cheeses give more flavor to foods. Avoid pre-shredded, which is coated with a starch to prevent clumping..
Unsweetened almond milk. Check the ingredients. It's best to make your own.
Unsweetened coconut milk. This is the kind that comes in the cans, NOT the stuff in the cartons.
Eggs
Meat:
Chicken & Turkey (not deli meat)
Beef . Try to9 get the best quality that you can afford, like grass fed and humanely raised beef. Venison and bison have a similar flavor to beef.
Pork. Occasionally you can have bacon or sausage, but read the ingredients list, avoiding high fructose corn syrup products.
Fish, wild caught. Avoid farmed fish because it is not humanely raised, and may have parasites.
Produce:
Stock up here.
Try to buy fresh, local, organic (if available) fruits and veggies to get the most nutrients for less money. In-season produce is always cheaper and better quality than out-of-season.
Eat your fill of fruit while it is season, then move on to the next.
This way you get a variety of nutrients that set your body up for optimum health.
Try to avoid fruits that are heavily sprayed, like bananas and strawberries. Opt for local, organic berries. The Dirty Dozen lists the worst.
Fruits include:
Avocados (January through March for best flavor)
Berries of all kinds (Strawberries are ready in June; then raspberries (July) and blueberries (July/August); cranberries are best in fall)
Cherries (Summer. Where I live, July and August have the tastiest cherries)
Peaches (August)
Apricots (Summer/July)
Grapes (late summer/early fall)
Pears (late summer/early fall)
Apples (Fall)
Oranges (Winter)
Grapefruits (Winter)
The Best Vegetables to Eat for Weight Loss are: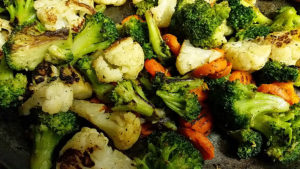 Dark Green/Leafy:
Celery
Broccoli
Green Bell Peppers
Kale, Spinach
Chard, Collard greens
Zucchini
Green beans
Eggplant
Okra
Red and Orange:
Any variety squash
Pumpkin
Tomatoes
Red Bell Peppers
Sweet potatoes
Carrots
Onions of any variety
Good Fats: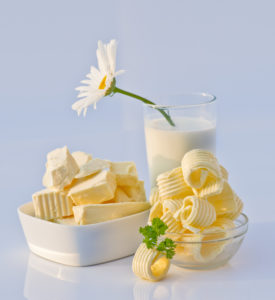 Your brain and cells require quality fats to function properly.
Butter or Ghee
Rendered animal fats: Tallow (beef), Lard (pork), Schmaltz (chicken or other poultry fat like duck or goose)
Coconut oil, Extra Virgin Olive Oil, and Avocado oil are great for cooking
Full-Fat dairy – Avoid low-fat or fat-free which use sugar and starch to replace the fat.

Avocado
Nuts & Seeds
Dark Chocolate
Canned fish packed in Olive or other quality oil (not soybean, canola, safflower or other industrial seed oils).
Clean bacon
Other Food Items:
Green tea, Coffee
Canned items with no added sugar or sodium. It may not be possible to get canned tomatoes without salt, as this is proper canning procedure. Do what you can.
Nuts and seeds such as sunflower seeds, sesame seeds, chia or flaxseed. Chia pudding anyone? Add berries for a tasty snack.
Ketchup. Find a clean ketchup.
Mustard. Look for ones without added sugar or choose Dijon.
Honey or Pure Maple Syrup.
Spices. Never purchase seasoning packets which have fillers (whatever they are??), starches, and mystery ingredients. There are clean Kopy-Kat recipes on the 'net.
Coconut flour, Almond Flour, or other gluten free flours.
Eating Healthy On A Budget: More Tips
Eliminate Junk Food
The quicker you stop buying it, the quicker you stop eating it. I know that it's hard to do, especially with kids. Mine would rather eat a whole box of KD (prepared of course) than eat a healthy meal when she was little.
But you need to know that the addictive additives are put in processed food precisely because they encourage you to eat more.
And more. I once went shopping with my friend and her toddler. She grabbed a bag of gummies to feed him while we shopped. 20 minutes later he vomited gummies everywhere. My friend hadn't noticed her son just cramming the gummies in, not even chewing them. She thought she was being a good mom.
Try to avoid food shopping with kids unless it is an outdoor market.
And try to "forget" to buy junk food. You may have to take a hard line in this area, but when your kids are healthier and doing better in school, you will be glad that you did.
Drink Water Instead of Soft Drinks
You can still enjoy your favorite drinks at a sporting event or night out, although you should stick with the smallest size when shopping to save money and calories.
In general, adults require 2 liters of water just to keep their internal organs hydrated, pink and plump and working optimally.
Buy reusable water bottles and give your kids their own so that they take ownership of their daily water intake.
You should fill up with foods that have a high content of water. Watermelon, salads, and even sugar free gelatin are all great examples.
Buy Produce in Quantity When It's In Season
When they are in season, buy fruits in quantity and freeze any extras. You can buy several pounds this way, and freeze extras to have them when the fruit goes out of season. Wash the fruit well, remove any spoiled pieces, dry thoroughly, then freeze in plastic zipper bags.
This works well for berries and cherries. My mom used to stuff pitted frozen black cherries with cream cheese. Nummy.
Meats and Fish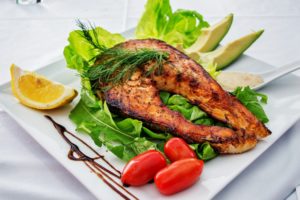 Meats and fish are the best sources for protein. If you buy grass-fed or pastured meats, you can safely eat the meat fat.
Purchase wild fish that comes from deep in the ocean for the best quality. If you live in a coastal area or an area where fish are around, make that an integral part of your diet.
You can catch them from the lakes or rivers, saving money in the process.
Peanut butter is good in a pinch as a protein source, but use it sparingly and try to buy natural peanut butter. Commercial brands contain, of all things, icing sugar. The sugar makes it extra-addictive.
Conclusion
Eating healthy is always something you can't go wrong with. You can eat healthy for just a few bucks, which makes it perfect for those on a budget. Now, you don't need a lot of money to have the lifestyle and health you've always wanted.
Holism targets overall wellness, and when we are well, we only get better with age.
Please share this post with anyone who can benefit from it. Sharing is caring!
And follow me on Pinterest!
Until next time, here's to our health!
-Irma