Today I will show you a simple Keto 7 Day Meal Plan. The Keto diet is one of the most popular diets around – and for good reason.
Not only can it help you lose weight, but it's also good for your cardiovascular system if you are doing the clean version.
Clean Keto diet cuts out foods that are bad for heart health while encouraging dieters to eat foods that are improve overall health.
Hello and welcome to Fearlessly Holistic.
My name is Irma and I want to share my journey to improved health by eating whole foods, moving my body and eliminating stress as much as possible.
It is my hope to inspire you to make daily changes. Why? Because eating fresh, seasonal food, getting some sunshine, and purging unhelpful thinking is the best way to increase longevity. But you do not want just a long life.
You want a quality long life.
Ready to start keto? Grab my KETO FOOD GUIDE and start eating better today. Keto diet, and especially clean keto which I advocate for, it healthy and delicious and nourishes your body which encourages healing and weight loss.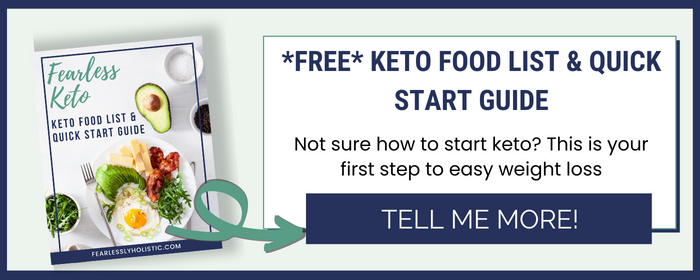 My blog posts are my opinion and the results of things that I have tried that either worked for me or didn't. My opinions are for informational purposes only and are not intended as medical advice. Medical advice should always be obtained from a qualified medical professional for any health conditions or symptoms associated with them. As well, there may be affiliate links in this post. Read more here.
Doing Whole Food Keto
One of the best parts of Keto is that it encourages you to eat fresh, whole foods. These foods contain the most nutrients and work the best to heal health issues and to lose weight.
It is easy to shop for Keto foods because you find them around the perimeter of most grocery stores. As long as you skip past the bakery area (you do not have to skip if you don't want to!), you should be good to go.
To do whole food Keto, stick to the basics to make life simple:
Meat, plus eggs and dairy if you tolerate them
Veggies
Nuts
Some berries
Avoid packaged and processed foods.
This is mostly because of the unhealthy ingredients.
If you find clean versions and the food fits your macros, try it and see. It is important that you make your diet sustainable for your life.
Learn to Cook at Home
This makes it easy to stay on track with your diet.
It may take a bit of time to get used to, but your food is fresher and cheaper. win-win.
Meal Plan and Prep
This makes life really simple.
Bulk cook foods that you like and take them for lunch. Or just prep and cook enough meals for a few days to make things easier for yourself.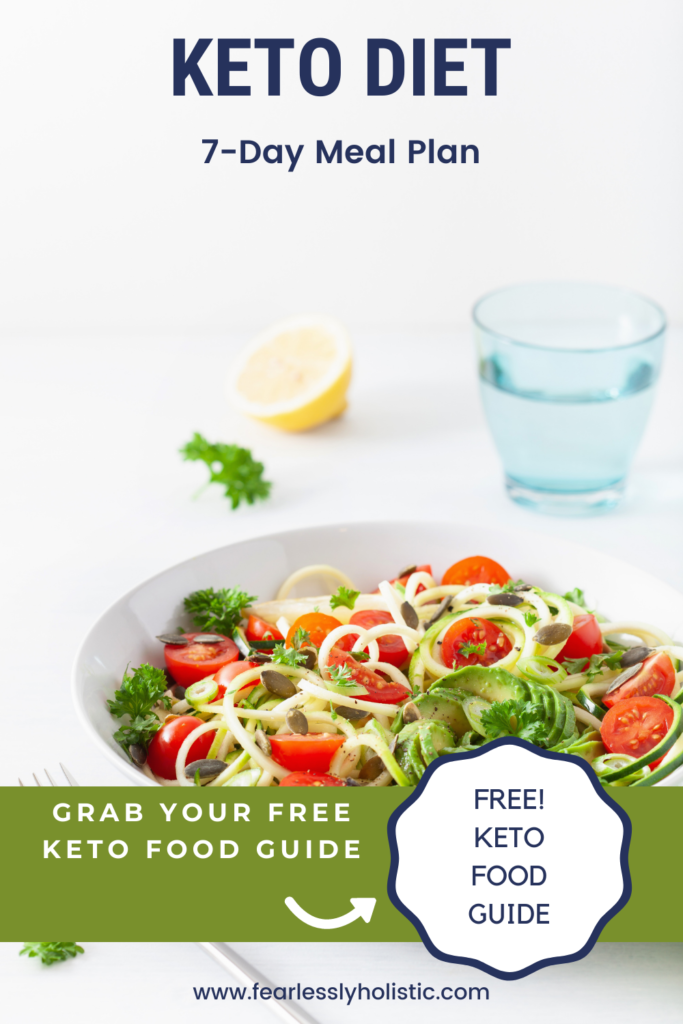 Healthy 7-day Meal Plan for Keto Diet
The following meal plan shows you an example of the types of foods, drinks, and snacks you can eat on a typical keto diet.
This meal plan is meant to give you 20 net carbs or less per day.
Your carb amounts might be slightly higher or lower, depending on portion sizes, brands, and other factors.
You should still log in everything you buy so you can track your net carbs.
I recommend Cronometer, but you can use any food tracking app that you like.
The snacks listed are optional depending on your net carbs for the three main meals.
Day 1
Breakfast – 3 eggs, 1 medium avocado
Lunch – Shrimp salad – Shrimp on a bed of lettuce with olive oil and vinegar as dressing. Add any veggies you like to the salad.
Dinner – Chicken, broccoli w/butter, cauliflower rice
Day 2
Breakfast – Keto coffee (coffee, 1-2 tbsp heavy whipping cream, 1 tbsp butter, 1 tbsp coconut oil)
Lunch – Bun-less bacon cheeseburger – Top a hamburger patty with cheese and your choice of toppings, like lettuce, tomato, and onion
Dinner – Ham and mushroom omelet with cheese
Day 3
Breakfast – Cream cheese pancakes – Cream cheese, eggs, cinnamon, and stevia blended into a pancake consistency. Serve with butter and sugar-free syrup.
Lunch – Grilled chicken, cauliflower mashed "potatoes", asparagus
Dinner – Low-carb taco salad – Ground beef with lettuce, tomato, avocado or guacamole, sour cream, shredded cheese, and black olives.
Day 4
Breakfast – 2 eggs, 2 sausage, 2 bacon
Lunch – Strawberry and spinach salad – Spinach with sliced strawberries, walnuts, and sugar-free raspberry vinaigrette.
Dinner – Zucchini lasagna – Use zucchini instead of lasagna noodles, fill with ground beef, low-sugar marinara sauce, your choice of cheese.
Day 5
Breakfast – Keto coffee (coffee, 1-2 tbsp heavy whipping cream, 1 tbsp butter, 1 tbsp coconut oil)
Lunch – BLT wrap – Bacon, tomato, and mayonnaise inside a lettuce wrap.
Dinner – Salmon w/side salad
Day 6
Breakfast – Keto coffee (coffee, 1-2 tbsp heavy whipping cream, 1 tbsp butter, 1 tbsp coconut oil)
Lunch – Loaded egg salad – Egg salad with your choice of chopped veggies, put inside a large lettuce leaf
Dinner – Bunless cheeseburger w/jicama fries
Day 7
Breakfast – Veggie scramble (eggs, cheese, bell peppers, onion, tomato)
Lunch – Sandwich roll-ups – Make your favorite sandwich as a roll-up, such as an Italian sandwich with salami, ham, cheese, red onion, shredded lettuce
Dinner – Steak w/mashed cauliflower, green beans
Optional Snacks:
Hardboiled eggs
Meat and cheese roll-ups
Lunch meat with cream cheese
Handful of nuts
Black olives
Strawberries or other berries
Simple Grocery List
And here is a simple grocery list of the items needed for the 7-day meal plan
Produce
Lettuce
Spinach
4 Avocados
Bell peppers
Onions
Mushrooms
Broccoli
Cauliflower
Tomatoes
Zucchini
Asparagus
Walnuts
Strawberries
Jicama
Green beans
Dairy and Eggs
2 dozen eggs
Shredded cheese
Butter
Heavy whipping cream
Feta cheese
Parmesan cheese
Mozzarella cheese
Cream cheese
Deli Section
Meat and Seafood
Shrimp
Chicken
Ground beef
Steak
Salmon
Bacon
Sausage
Pantry
Olive oil
Vinegar
Coconut oil
Coffee
Black olives
Mayonnaise
Stevia
Cinnamon
Sugar-free vinaigrette
Conclusion
I love eating low-carb and being in Ketosis; it has healed so many areas of my health. I have made the Keto diet to fit my life and the concepts that I am aligned with, which are clean, seasonal eating.
If you are serious about losing weight and improving overall health, get this free guide to getting started on Keto diet and let's do this thing!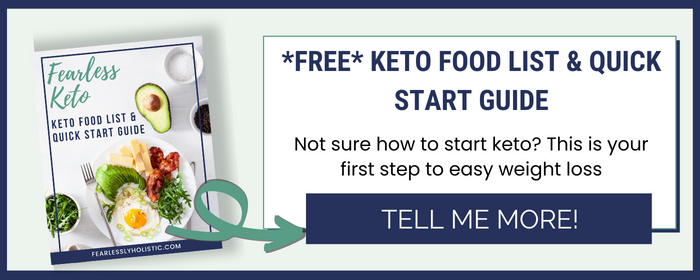 Holism targets overall wellness, and when we are well, we only get better with age.
Eat the best food that you can afford to give your body the building blocks it needs for optimal health, longevity, and looking good for as long as possible 😉
Please share this post with anyone who can benefit from it. Sharing is caring! And follow me on Pinterest!
Until next time, here's to our health!
-Irma