I purchased several items from the MadeOn skin care products website. I've wanted to write a review for a while, but I was testing some items that I bought locally to compare to the MadeOn products.
The items were purchased with my own money and this review post is based on my personal opinions of the products that I bought.
Hello and welcome to Fearlessly Holistic.
My name is Irma and I want to share my journey to improved health by eating whole foods, moving my body and eliminating stress as much as possible.
It is my hope to inspire you to make daily changes. Why? Because eating fresh, seasonal food, getting some sunshine, and purging unhelpful thinking is the best way to increase longevity. But you do not want just a long life.
You want a quality long life.
My blog posts are my opinion and the results of things that I have tried that either worked for me or didn't. My opinions are for informational purposes only and are not intended as medical advice. Medical advice should always be obtained from a qualified medical professional for any health conditions or symptoms associated with them. As well, there may be affiliate links in this post. Read more here.
Who Are MadeOn Skin Care Products?
MadeOn Skin care was created by Renee Harris from California, USA.
Renee has always had dry skin (I can relate) and was desperate for a product that would help. You see Renee had covered her hands in band-aids because her skin was cracking from being so dry.
The first lotion bar that Renee created healed her skin within days.
So she tried it on her sons eczema next…and it worked! Renee took her products to a local farmers market, and MadeOn Skin Care was born. Read more about Renee's story here.
A while back, I purchased some gardening digital products. The bundle had some bonus items with exclusive prices just for purchasing the bundle.
I went to each website to see what they offered while I debated ordering anything.
You see, the products are all from the USA, and I live in Canada, so there is extra shipping and duty costs that I weigh against the product that I am getting.
One of the bonuses for purchase was a free lip balm and a Bug Block stick from MadeOn.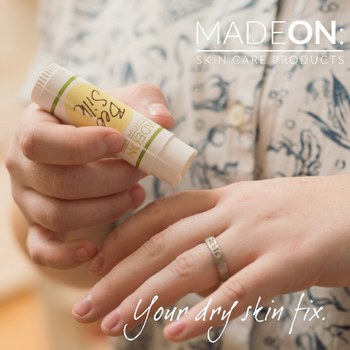 I was surprised when I got to the website, because I had been looking for products like theirs locally, but was not successful.
I took a chance and purchased a bunch of items that I wanted to try, and to make the shipping/duty cost worthwhile.
The products that I ordered were: (click the underlined link to be taken directly to the information in a new tab. Keep scrolling to read each review)
Please note that there are other products available on the website. These are the products that interested me.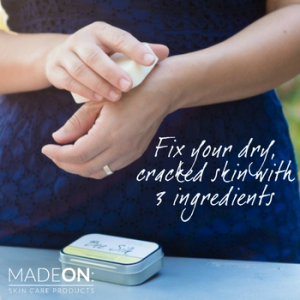 I love this product. This is exactly what I was looking for and what motivated me to explore the bonus items to begin with.
Beesilk lotion bars are perfect for anyone, and are particularly awesome for "winter" skin or whenever your hands are dry.
The bar is solid at room temperature. You just put the bar between your hands and let your body heat melt the bar. Then you massage into your skin.
The lotion absorbs quickly and is not oily at all. There is no odor.
I use the bar on rough skin spots as well, because it is easy to manipulate the bar onto knees or elbows.
I found that even after washing my hands two or three times, the lotion maintained a "barrier" and kept my hands soft.
It is not greasy, even though it is made from coconut oil. It also contains Shea butter and beeswax (unbleached).
I took some of the products with me while I was river tubing last summer. We were in the water pretty much all day for 5 days and I was using the lotion for after sun care as well.
When you purchase an individual lotion bar, it comes in a handy tin for storage.
I purchased a 2 pack of refill bars so I would have plenty on hand. Next time I will be buying the larger bars, which also have a handy tin that is the right size.
I went through my free sample and the first bar over the summer because I was using it all the time. My hands stay soft and look healthy when I use coconut oil products.
I bought a local product that was similar but was meant for people with eczema and it contains corn starch and other ingredients, and is less solid and a bit messier.
I do not like it as much as the Beesilk lotion bar, which has less ingredients and is cleaner to apply. #toobad
Prices are:
Full size + tin (as seen in the above video): $20 Full size refill (no tin): 2 bars $28
Pocket size + tin: $12 Pocket size refill (no tin): 2 bars $16
There is also a product called Beesilk Junior, which is in a round tin and is for babies or people with delicate skin.
Family size (4-oz): $22 or 5-pk for $88 Pocket size (1-oz): $12
This is a very nice lip balm. It goes on as smoothly on your lips as the lotion bars go on your hands.
It does the job, and you can use it sparingly because of the natural ingredients.
Our weather has been going from spring-like to blistering cold and recently my lips got super chapped. This product helped to heal the grossness quickly and my lips were soft in no time.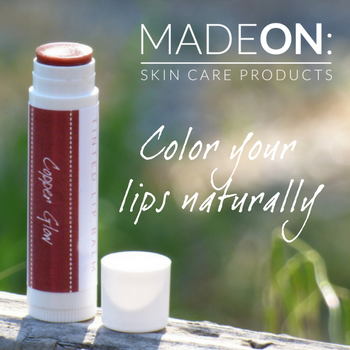 The ingredients are: beeswax, coconut oil, shea butter and peppermint essential oil. Each tube is .15 oz.
I was not sure that I would like the peppermint scent, but it is nice in winter when the world is all candy-caned up.
Again, the lip balm did not leak or melt while I was on vacay. No worries about finding a big greasy gob of whatever in the bottom of your purse or bag.
I love that it is the same 3 main ingredients, because many lip balm products contain a bunch of weird chemically ingredients that are, in my opinion, unnecessary. Why use 14 ingredients when you can use 3?
The only extra ingredients are for the flavor and scent. You can get lip balms with some tint added, but mine did not have that.
Lip Balm: $8 each. Available flavors are: Peppermint (peppermint essential oil); Au Chocolat (the cocoa butter gives a chocolate scent); Chocolate Mint (peppermint essential oil); Spearmint (spearmint essential oil).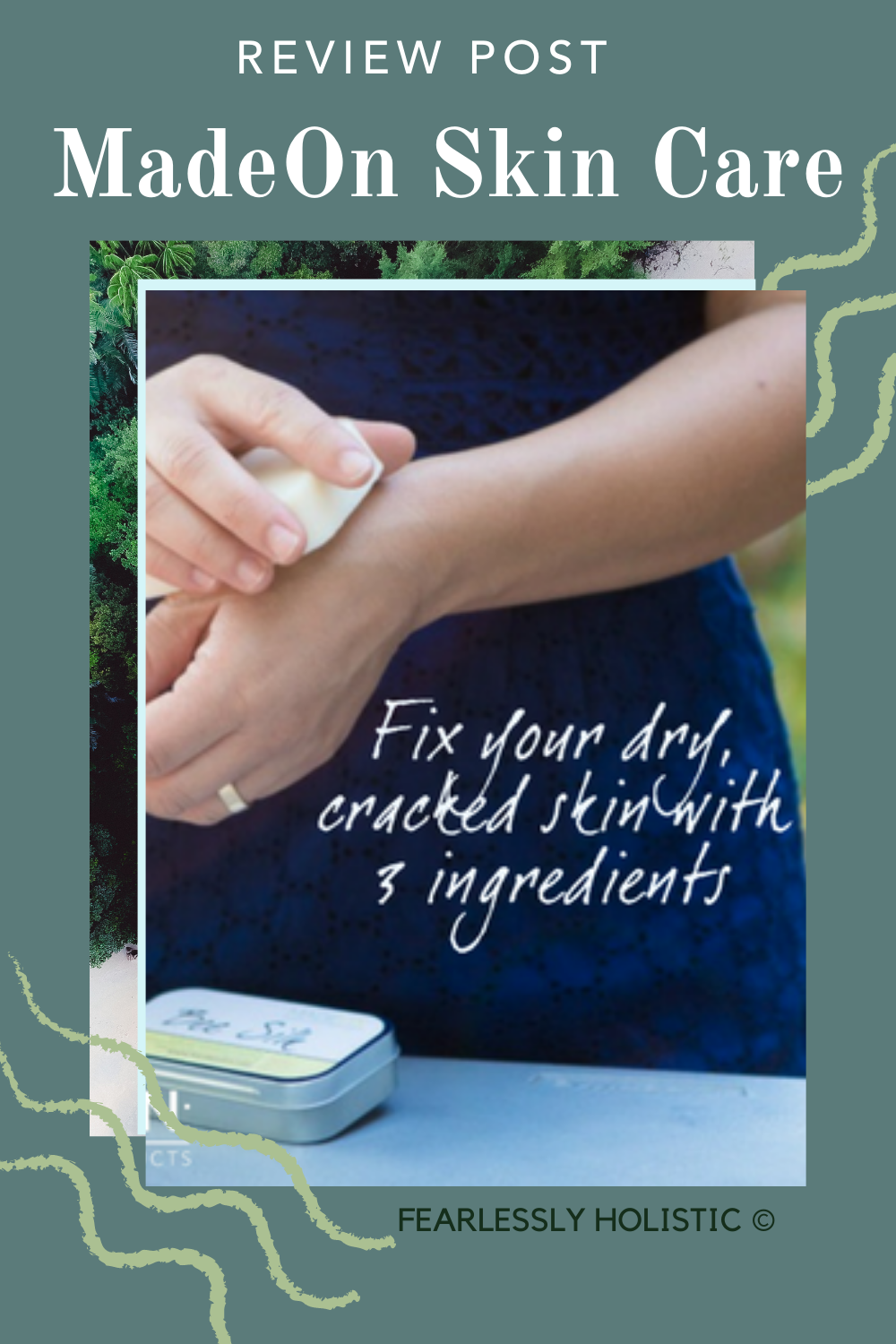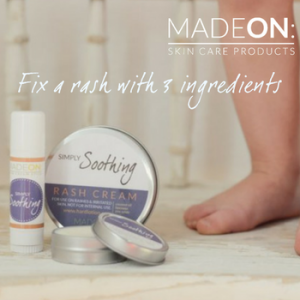 I bought this because I would be out in the sun and it contains zinc oxide. It is useful for diaper rash, bug bites, and it is scent-free.
You used to be able to find pots of zinc oxide creams – for blocking the sun on your nose or ears – but it is getting harder to find. When I saw the ingredients for this, I knew that I best get to purchasing.
Like the other products, the ingredients are: 76 degree coconut oil, unbleached beesewax, and non-nano uncoated zince oxide.
Because we spend the entire day tubing, I do not want to have to run back to the motel for supplies.
I took my Simply Soothing rash stick with me in my go-bag.
It did not melt but it did get a bit softer, which was helpful. It was easier to apply in between runs. I used it on the edges of my ears and on my nose because I like to dip my head in the water on the really hot days.
That action would cause regular sun screens to wash away. The zinc oxide ensures that it does not wash off, either by washing or sweating.
I did get a bit red on my chest and shoulders on one of the days and I used the Simply Soothing stick for "after care". It worked like a charm!
FYI: I used barely any of it because a little goes a long way!
It is also useful for eczema or other minor skin irritations.
Pocket size (1 oz in a tin): $12
Stick (.5 oz): $12
Family Size (4 oz) $22
This came in handy while I was vacationing. We had a rainy day, which brought out some bugs but I was prepared with this bug block stick (super handy in stick form!).
I applied mine on the top of my feet and ankles, which is where I usually get most of my bites.
Along with coconut oil, shea butter and beeswax the stick contains citronella, cedarwood and rosemary essential oils. So it is also a lotion with a nice citrusy scent.
And NO DEET.
While government agencies recommend Deet to ward off bugs, they do not have to live with your results. There are plenty of negative consequences of using chemicals like deet. They range from mild irritations to seizures and brain malfunctions. For me, it is not worth it.
And I will never miss the annoying smell of Off.
The MadeOn Bug block comes in:
Large bar ($24),
Pocket size bar ($15) or
Stick ($15).
No point in bringing other face creams when I was reviewing the MadeOn products on vacation.
I brought the facial emollient in the hope that it would keep my face from drying out or getting too baked in the sun.
The ingredients are: Naturally refined shea butter and Rose hip seed oil. Pretty basic…nice!
I found that it was beneficial for this emollient to be where it was a bit warmer, so that it goes on smoothly. This is one of MadeOn's most popular items and for good reason.
A jar of emollient will last for months! And you can use it on your entire body. You will find, as I have, that coconut oil products that are pure (no weird chemicals etc) will help your skin become softer over time.
This emollient absorbs quickly as well and leaves your face super soft, like baby skin. win-win.
Simply Shea Facial Emollient: 1 oz in a plastic pot: $12
This is a moisturizer for your hair…a type of conditioner product. It also pairs well with the shampoo bar, although for my own hair, I rarely use it.
It comes in its own little round tin, which is convenient.
Mostly I rub some of this into my palms and rub it into the ends of my hair if they feel dry. It says on the tin that it is "for very coarse or dry hair".
I do not get as many flyaways since I stopped using regular shampoo, so my need for conditioner is mostly gone as well.
However, after baking in the sun and dragging my hair through a canal, I like to scrub the gunk out daily and it is nice to get a bit of conditioner in as well.
And if I am behind on my haircuts, and the ends of my hair get dry, this product gives my hair a new life.
Pocket Size – 1 0z tin: $12
Family Size – 4 oz tin: $22
I only worry about this in spring and summer lol. This is a round bar that will fit in most ramekins, if you need a container for it.
Like shampoo bars, they work better as they age, so leaving it in a soap dish that allows water to drain away means it will last longer.
This really has no scent. You can get a bit of lather, but it really is like using bar soap on your legs.
The exception is that bar soap does not leave my skin feeling as soft as this bar did.
Along with coconut oil, it contains: extra virgin olive oil, organic safflower oil, organic avocado oil, raw goal milk, several other oils, bentonite clay, organic cocoa butter, raw honey and vitamin e (un-scented bar).
I bought this to get away from the gross foaming spray cans full of propellant. I wanted something that can travel easily; I keep it in a face cloth inside a zip bag.
I like it better than using regular bar soap because it is meant for shaving. And anything unscented is great in my book.
The un-scented bar is handy to keep around for both men and women. This is a very popular product on the MadeOn site, with 85 reviews (75 5-star and 8 4-star reviews).
Shaving Soap: $11 – Unscented or 3 scents: lavender; eucalyptus; elderberry & sage.
This has changed since I ordered. The three items that I received were the shampoo bar, goat's milk soap, and natural lip balm.
Now the box contains a pocket size hard lotion bar!
Travel Box (4 pc): $25
I had been reading the benefits of using goat's milk soap and how amazingly soft it leaves your skin, so this travel box was a perfect opportunity to try it out and to grab a shampoo bar at the same time!
Pure goat milk, as a soap ingredient, is perfect for dry skin issues, like winter dryness, and other skin problems like eczema, psoriasis, and even acne.
This soap aids in removal of dead skin cells goat milk contains alpha hydroxy acids. It is very nourishing and does not strip skin of all oils like commercial soaps can.
I have been using goat milk soap for about 8 months now and I will never go back. I try to always buy unscented products and this soap is perfect because it does not smell like anything.
Goat Milk Soap Bar (variety of scents) $12 each
The reason that I purchased the Travel Skin Care Box was specifically because I wanted to try a shampoo bar. Shampoo bars are made for hair, unlike the goal milk soap which is made for skin.
I pair this with the hair butter, which I only use on the ends of my hair. I use a lot less hair products since switching to natural ingredients.
Shampoo bars are perfect for travelling, especially air travel, as they are not liquid.
I would still suggest putting it with your other liquids, if you have any, because some shampoo bars "look" questionable lol.
It contains: Rhassoul Clay (reduces dryness while removing product buildup); cocoa butter (moisturizer); and canola oil (fights frizz).
You can still work up a lather and wash your hair like normal.
I stopped using commercially made shampoo long ago because I was sure that the chemicals were contributing to my allergies.
Shampoo bars make it easy to maintain the feeling of clean hair with the ease of use of a bar. You could take this to a lake or river and wash your hair without and not worry about poisoning fish or other water creatures.
I will warn you that switching to natural products like this has a detox period.
For me, my hair was normal again in 3 weeks. Your mileage may vary. But your hair will thank you for releasing it from the chemicals.
You can use the shampoo bar with colored treated or permed hair.
Shampoo bar (full size): $20 (if you want to purchase outside of the travel box)
Make an order and you can grab your choice of one of 5 freebies, which are:
Beesilk sample bar (heart shaped! so cute! and this was my choice of freebie)
Sample Avocado Facial Bar
Sample Milk & Honey Goat Milk Soap
Peppermint Lip Balm or Natural Lip Balm
Conclusion
All in all, my experience with MadeOn skin care products has been a positive one. I have searched locally for lotion bars, but the only one I found had other ingredients (it was meant for eczema and contained corn starch) and came in deodorant style twist up container.
It's okay but the MadeOn bar is handier and a superior product.
If you are looking to switch over to some natural products, I can recommend MadeOn. I took a chance, but I am happy with the products that I purchased.
Holistic approaches never just address symptoms of specific health problems, but instead aim to return or keep the patient in a state of balanced health between mind, body, and spirit. Holism targets overall wellness, and when we are well, we only get better with age.
Please share this post with anyone who can benefit from it. Sharing is caring!
And follow me on Pinterest!
Until next time, here's to our health!
-Irma