The self-care gifts women want are the ones that they will use! It is important to keep seeking of the things that enhance and improve our lives am I right?
In today's post, I will share amazing self-care gifts that make my life better. And I am sure they will help your life as well.
Hello and welcome to Fearlessly Holistic.
My name is Irma and I want to share my journey to improved health by eating whole foods, moving my body and eliminating stress as much as possible.
It is my hope to inspire you to make daily changes. Why? Because eating fresh, seasonal food and getting some sunshine is the best way to increase longevity. But you do not want just a long life. You want a quality long life.
My blog posts are my opinion and the results of things that I have tried that either worked for me or didn't. My opinions are for informational purposes only and are not intended as medical advice. Medical advice should always be obtained from a qualified medical professional for any health conditions or symptoms associated with them. As well, there may be affiliate links in this post. Read more here.
Women Need Self-Care…They Just Do
So I created a list for anyone who wants to get started with a self-care routine. Or if they want to help another woman get started.
Click the blue underlined link to be taken to the website page. These are products that I use daily, or at least weekly.
It has taken me a while to figure out which things make me feel better and which don't. I hope you will be inspired to try some of these for yourself.
Self-Care for Sleepy Time
A restful night's sleep is important for everyone, but doubly so for the person who looks after everyone else! Give the women you know a way to make their rest time more relaxing.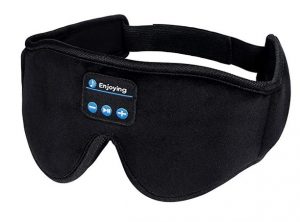 These are amazing! Never mind that they effectively block light better than any sleep mask I have tried (#many), but they're softer and more comfortable too.
The Bluetooth speakers mean that you can listen to subliminal messaging while you sleep without destroying your headphones.
They are cool and comfortable and fully cover your ears.
I sleep better than I ever had because this mask blocks out all light. I have purchased 3 of these over the years, and they keep getting softer and comfier.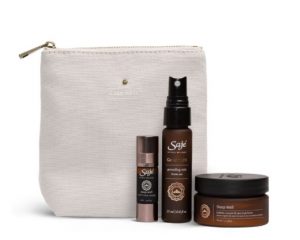 Get 10% off with my code: https://www.talkable.com/x/WZSQjI
While we're getting ready for bed, how about making your room and pillow smell like relaxing lavender and orange?
I admit to using up the hand cream faster than the room spray.
And using the room spray faster than the Sleep Well restful Sleep essential oil, which you can roll on your feet before putting socks on. But all of it is helpful to a better sleep.
And you get a nice canvas-style RPET fabric zip pouch to keep everything in.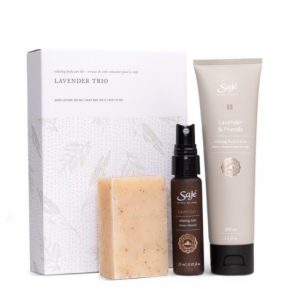 While we're at the Saje website, be sure to check out some of their other useful self-care products like this relaxing body kit for lavender lovers, like me.
You get:
Lavender & Friends Lotion – 100 ml
Mist – 25 ml
Bar Soap – 100 g
It comes all together in limited-edition holiday-ready packaging!
Sleep has never been so relaxing.
While you are there check this product out. It's my fave. PS I buy all my deodorant here. No scary chemicals on my pits!
Self-Care for Clearing Mental Clutter
I know how it sounds but we all need to clear clutter from our brains…it's good self-care. You can try some reprogramming while you sleep and then journal out the bad stuff when awake. win-win!
Brain Sync is where I get my brain-changing subliminals.
Listen to these cd's/mp3's as you drift off to sleep, to effortlessly change your thinking.
Subliminal programs by-pass your conscious mind.
They help you change negative thought patterns that keep you stuck.
There are programs for:
Positive Thinking
Weight Loss
Quit Smoking
Attract Love
Attract Wealth
Meditation
Deep Learning
Heal Depression
And many, many more. What you hear are nature sounds, like ocean waves.
The messaging is delivered separately to each ear to create a "binaural beat".
From the website: "Brain Sync audio programs deliver pure and precisely tuned sound frequencies to the brain to drive brain activity into high level states of mind.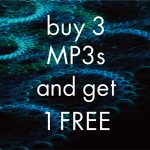 These are brain states known as:
Alpha for heightened creativity and deep relaxation
Beta for high focus and concentration
Theta for meditation, insight and memory
Delta for deep sleep and healing
Gamma to increase cognition and improve IQ.
I've been using these cd's to break my unhelpful money blocks (Attract Wealth/Manifest Prosperity), as well as to re-program myself to be more of a positive thinker (Positive Thinking/Create Success).
It's so effortless…you just wake up with new motivation. I love it.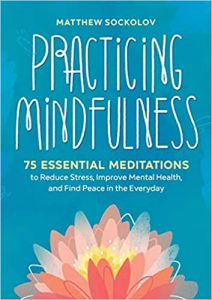 This adorable little book will help you get started on the path to mindfulness.
As busy people, it can be hard to find time to meditate and  get some inner peace.
But we need that to remove ourselves from our hectic lives.
Enter mindfulness.
This book will help you develop the routines you need to unwind, improve awareness, and relieve stress.
Use the exercises to create your own custom practices that help you ground yourself so that you are always in control.
No more panic! Instead, you'll be cool as a cucumber regardless of the situation.
"Begin a journey of peace and patience today on the path to a better, more balanced life".
Good ole Amazon…when I saw these, I knew I had to have one!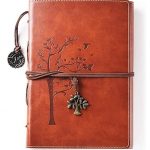 This incredibly beautiful journal is perfect for carrying around or keeping at your bedside table. Imagine being able to capture your great ideas in one handy spot (that's what I use mine for!).
Jot notes, vent about your trying day, or doodle your dream kitchen.
Add stickers or photos, then take it shopping to find your treasures.
Use it on vacation, in school, or give as a gift. Any woman would be pleased to have such a handy item.
*Note: this is Faux leather, so no animals were harmed in its making.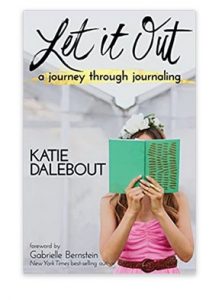 This book put me on the path to journaling for stress relief. Katie has a bunch of different types of prompts to help you find your unique journaling style.
Journaling is the way to get thoughts out of your head, where they clutter up your brain and keep you from taking action.
Putting words to paper can help you sort out problems, find clarity, or just get things off your chest.
In our super-busy world we don't have enough time to work through all the craziness that happens to us daily. Use a journal to work through job stress, road-rage incidents, or dating woes.
Or use it to plan your dream life by listing everything you really want…and why.
Your brain is craving a good de-cluttering. Go ahead and let the junk out to make space for positive thinking and plans for the future.
Self-Care To Relax and Unwind
I'm the first person to admit that I've always loved coloring. I buy art supplies all the time for coloring art mandala canvasses or pages like the ones in this book.
Pages which are detachable by the way.
You can easily finish your project and then frame it for display. The 6.4″ x 6.4″ page size means that you can use a 7″ x 7″ frame to create an art series.
The size also means that it is easy to take with you. Color your way through extended waiting room times, on vacation, or while watching TV.
And the Durable Artist-Grade Paper is thick 100 lb (150 gsm) paper that provides a bleed-proof surface for your favorite colored pencils, markers, pens, or crayons.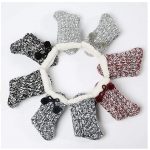 Reading socks lol…I know, right? But hey, why not get something cozy for your feet while we're at it?
I have some of these for those times when I've booked myself some time to read (yes, I have to "book" it lol).
Get your latest novel and cozy up in your favorite chair and get busy with reading. These socks are warm and comfy with fleece lining. They are also non-skid and totally washable.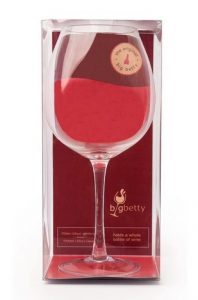 Really, what's left to say? The first time I saw this, I knew several people who could benefit from it…myself included. Because there are "those" days.
This glass holds an entire 750 ml bottle of wine. This is a great gift for almost any woman person, a newly-turned-21 year old, or for a bachelorette.
C'mon…you know people who would love this!
Get a couple of them and be sure to use wine charms because this glass will be stolen by everyone.
It's easy to clean (hand wash/air dry). Drink a whole bottle of wine without getting up to refill. No brown bag required!
Not sure you want anyone to know what you're drinking? Try a wine mug. You can always fill it with coffee and pretend you're partying at 8 a.m?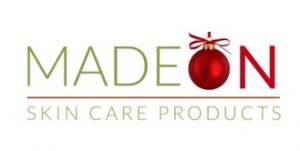 This is my favorite hard lotion. It only has a few ingredients (coconut oil, shea butter, beeswax) and no irritating scents.
Just warm the bar up between your palms, then massage in. It dries quickly, considering its made from oil. But coconut oil is special. It makes your skin softer the more you use it.
I have tried finding a similar product locally, but with no luck.
Products from MadeOn that I have tried and recommend:
Hard Lotion bars (Bee Silk)
Lip Balm
Bug Block (works great!)
Simply Soothing – This has zinc oxide, so it's good for sunburn. I used it to keep my nose from getting burnt last summer.
Hair Butter
Don't forget to grab a freebie before you check out. I grabbed the lotion bar sample.
Self-Care Honorable Mention: Dr. Ho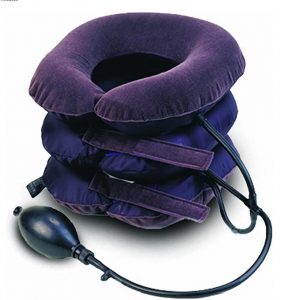 Do you know anyone who suffers from "tech neck"? I do, and it's me.
Whiplash 10 years ago has left me with chronic neck pain, especially if I get hunched over a keyboard for too long.
I bought a Dr. Ho pain bundle and I cannot say enough good things about it.
The only issue is that some products sell out super quick
My bundle came with this amazing unit (pictured), which you use to decompress your neck vertebrae. It pumps up with something similar to a blood pressure cuff and it helps take the pressure off of your neck.
It gives me greater range of motion and I have less cracking noises when I turn my head.
You only to inflate it as much as you need to take the pressure off.
You can lock it into the inflated position easily, sit and watch TV for a bit, and then deflate.
When it's time to deflate it, just twist the knob near the pump and it deflates in just a few seconds. It deflates to completely flat so you can travel with it.
I also have this whole system, which I love (also from Dr. Ho)! It's the same kind of TENS system that's used at Physiotherapy, but in a home machine.
Conclusion
It's up to us to take care of ourselves, which explains why so few women do it. We just do not prioritize our own health.
If you know a woman who can benefit from these products, please get confirmation on quantities required before ordering!
Holistic approaches never just address symptoms of specific health problems, but instead aim to return or keep the patient in a state of balanced health between mind, body, and spirit. Holism targets overall wellness, and when we are well, we only get better with age.
Please share this post with anyone who can benefit from it. Sharing is caring!
And follow me on Pinterest!
Until next time, here's to our health!
-Irma