Today we're starting Keto diet the simple way.
I will lay out a simple series of steps for you to follow so that you can be prepared for whatever may come up and be ready.
This is a plan you can come back to as often as you need to, because I know that changing diets can be confusing and I do not want you to be confused when it comes to improving health and losing weight.
Hello and welcome to Fearlessly Holistic.
My name is Irma and I want to share my journey to improved health by eating whole foods, moving my body and eliminating stress as much as possible.
It is my hope to inspire you to make daily changes. Why? Because eating fresh, seasonal food, getting some sunshine, and purging unhelpful thinking is the best way to increase longevity. But you do not want just a long life.
You want a quality long life.
Ready to start keto? Grab my KETO FOOD GUIDE and start eating better today. Keto diet, and especially clean keto which I advocate for, it healthy and delicious and nourishes your body which encourages healing and weight loss.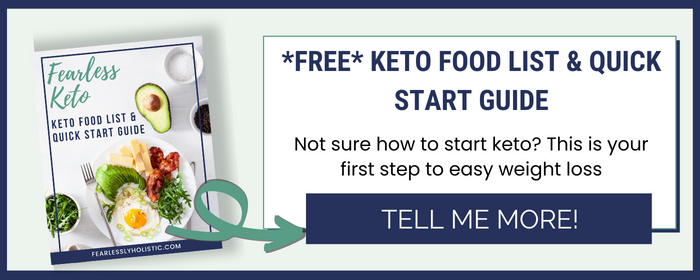 My blog posts are my opinion and the results of things that I have tried that either worked for me or didn't. My opinions are for informational purposes only and are not intended as medical advice. Medical advice should always be obtained from a qualified medical professional for any health conditions or symptoms associated with them. As well, there may be affiliate links in this post. Read more here.
Get Ready To Start Keto Diet
I got into keto diet when Atkins was the big deal in low-carb.
An excellent resource is Dr. Atkins New Diet Revolution (DANDR) book and I check it whenever I need help with some keto idea.
Low carb eating was an obvious choice for me when I discovered it.
Dr. Atkins encouraged clean meat and lots of veggies, which is perfectly healthy.
And being someone who disliked veggies at the time, I took it as a sign to change my thinking about them.
I signed up for a local co-op box of veggies for $20 a month.
What I got was seasonal, local produce that was fresh and cheap, and I had the opportunity to test out new recipes.
However, I had to change my mindset about what I was eating to make it worthwhile.
Mindset is key to making changes and to making them stick.
I encourage you to convince your family, if you need to, that making a switch to keto benefits everyone.
My advice, and you can take it or leave it, is to read through this post to create a basic plan for going forward.
I was already doing keto and feeding my family some keto foods before they came on board with me full-time.
You can easily do this as well, when going through step one of this post.
Note: I did all the cooking in my house, and my motto has always been "eat it or go without".
The point being, if I cook I get to decide what is cooked.
And I refuse to cook a bunch of different foods to satisfy my family. If someone else wants to cook, I will eat what they prepare;
I only remember once where that happened lol.
So if you have been trying to satisfy everyone by making tons of different foods, you may want to back off from this.
This does not apply to creating special food for people with food allergies.
However, if your teenager wants to eat vegan food, get them to prepare their own protein.
They have to learn this skill anyway, because most food is not vegan. And everyone should know how to cook for themselves.
They can then eat your keto veggies or side dishes as long as they are okay with the ingredients.
1. Clean Out Your Kitchen and Pantry
If you are serious about starting keto diet, then you have to do this first step first.
Take inventory of what you have that already fits with keto, like canned plain tomatoes, canned protein like tuna or chicken, and frozen veggies.
Now look at your high carb foods and figure out how to use them up. Or throw them away…your choice.
If you think your family may not go along with full keto right away…
I suggest using up your high carb foods by serving smaller amounts over a period of a few weeks.
Start increasing the amount of protein and veggies you serve.
Try to incorporate higher, healthy fat foods whenever possible, so that everyone is more or less happy with the meals.
A good rule of thumb for keto diet is:
Low carb is healthier than high carb
Home cooking is better than fast or processed foods
Fresh, clean food is the better than "dirty" keto foods (more on that in part 3)
Do the best you can. A fast food salad or bunless burger is better than pizza.
So when you are starting keto diet with your family, start at the start
Start eliminating the foods that do not improve health
Add in foods that do make health better
Remember that keto is a journey, so there will be pitfalls.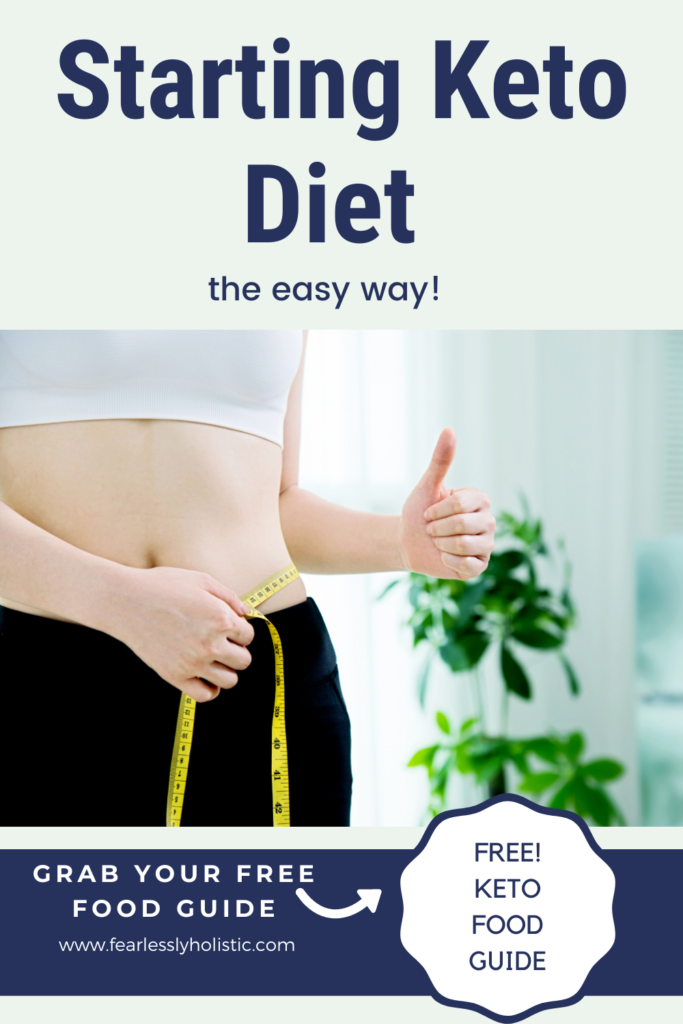 2. Make a Meal Plan of Foods Your Family Will Eat
I am talking about:
Meat, fish, seafood, poultry
Veggies they will eat
Dairy, if tolerated
Nuts and seeds
Berries
These are all staple keto foods.
You will want to know which foods will make your meal planning successful.
In my Fearless Keto Diet Kit, I include 40 recipes (breakfast, lunch, and dinners) that my family will eat with zero issues, as well as desserts and snacks.
It will help you immensely if you have a rotating list of keto meals that your family will eat without too much fuss.
I suggest getting online and searching recipes that match foods your family already likes, like chicken.
Find 21 meals to put in your meal plan
This gets you through the first week, and allows you to test foods out to see how they go over with your family.
Write down what your family liked and what they really hated.
Do not worry if they turn up their nose a bit, but still eat the meal. This is just because it is new and different.
Over time, you will build a library of foods that everyone more or less likes.
Plan for your busy days
This might mean pulling out the slow-cooker for days when everyone gets home late.
If you know that Tuesday and Thursday are busy days, for example, cook double the food for Tuesday and eat the leftovers on Thursday.
Or do two slow-cooker meals on these days.
Check the internet for keto diet recipes that you can prep and freeze.
Cook a triple batch of chili and freeze some for later use.
3. Shop for Keto-Friendly Foods
The keto diet can be a successful way to lose weight and one of the reasons for this is because the food on the diet is readily available.
Our favorite place to shop for keto foods is Costco, but shopping there in person is not always an option.
However, Costco is online and ships fast.
You can get a lot of keto grocery items this way; I love the quality of the products that I can from Costco.
Most local grocery stores have plenty of keto foods, because at its heart, keto is meat and veggies.
Just do an online search for keto online grocery stores.
If you check out places like Amazon, there's a dedicated selection of keto foods.
Many of these items will also list the amount of net carbs for you.
Look through online retailers websites for foods like olive oil, coconut oil, and many specialty items that you'd like to get for your keto weight loss.
There are also keto or low carb specific grocers online who deliver straight to your house.
You can sign up for things like the Keto Delivered.
Get a monthly subscription of ketogenic diet friendly foods "carefully curated for you from artisans, farmer's markets, and small batch foods."
If you do want to shop online for certain items, you don't just have to always stick to a place like Amazon if you don't want to – or if you need something quickly.
You can use grocery store selection delivery services.
These are online tools located in some cities that will allow you to choose the foods you want from a variety of participating stores.
You get to select the keto or low carb foods that you want and a personal shopper from the online tool will pick up the foods you've chosen and bring them to you.
Shopping from pharmacies or specialty whole food stores can also be an option.
Keto foods are available at regular grocery stores, both in person and online.
Sometimes you can find shopping coupons online for your specific keto or low carb foods.
You can find the meats, vegetables and dairy that you need for your diet.
And you can still find everything you need at your local grocery store.
Shop the outside aisles to find meat, veggies, and berries.
Other aisles have:
Nuts (plain or salted, watch the carbs!)
Canned tomatoes, keto friendly sauces like Alfredo (read ingredients)
Keto snacks, like jerky, pork rinds, cheese snacks like Moon Cheese, pepperoni, and dark chocolate.
A note about "dirty" keto foods
Dirty keto refers to foods that help you maintain your macros (fat, protein and carb grams per day), but are made from suspect ingredients.
If you need help understanding how to track your macros, ready my post How To Calculate Your Keto Macros.
I explain the concept and why you should track the first two months on keto diet.
Most keto diets encourage eating clean food because they improve health.
Clean foods are olive or coconut oil versus eating industrial seed oils like soybean, canola, or corn oil.
Industrial seed oils use solvents and other unhealthy methods to extract oil from seeds.
These products increase inflammation in the body and are generally not helpful to keto diet.
4. Meal prep the first week
So now that you have emptied the pantry of high carb foods, chosen your keto diet foods, and done the shopping it is time to meal prep.
Once you get the hang of cooking your keto faves, you can bulk-cook and prep multi-day containers for your family.
They can head to the fridge, grab a lunch container and go.
For now, it is just good to get organized for your week.
You will find that cooking keto foods from home is a time-saver if you are ready for it.
There is a learning curve, depending on the extra-curriculars of your family, like late meetings or evening sports.
This is when you should be sure to have some keto snacks on hand.
Even dirty keto snacks may be better than the drive-thru if you are running late.
Make sure to give your family some extra snacks to help them stay keto.
Packages of mixed nuts, individual cheese, jerky or just extra keto meal food will help everyone stay on track.
5. Track your Keto Diet Macros to Maintain Success
I use Cronometer, which is a free food tracking app. Just add in your height, current weight and goals to get your macros to aim for.
The app is available for desktop and mobile, so you can easily track on the go.
It also tracks fitness and biometrics, like weight changes, so you get all the information you need to make tweaks in your keto food plan.
Chronometer also gives you far more micro nutrient tracking information
I used to use a different app, but that one did not give me daily totals of the micro nutrients I get from food, such as Vitamin A or B3.
If you are trying to eat more foods that give you B vitamins or if you are concerned about how much iron you are getting, this is an important difference.
Cronometer is easy to use and allows you to input homemade recipes to get accurate nutrition information.
Regardless of which app you use, it is important to track the first 2 months at least.
You need data to make informed choices.
If your app gives you long term trends for whatever information you need, that is even better.
It can be motivating if you think that you are not making weight loss progress and then see a graph that shows that you are.
That can be the difference between being successful on keto diet and giving up.
Conclusion
I love eating low-carb and being in Ketosis; it has healed so many areas of my health. I have made the Keto diet to fit my life and the concepts that I am aligned with, which are clean, seasonal eating and periodic fasting.
If you are serious about losing weight and improving overall health be sure to grab this free guide and check out how healthy keto diet really is!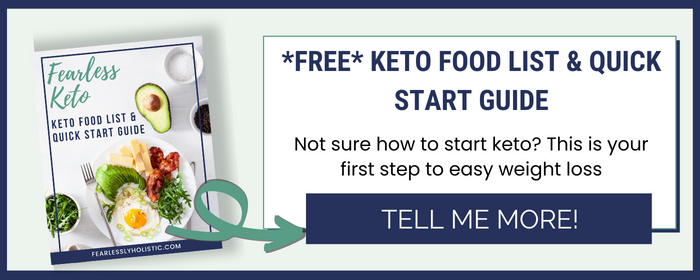 Holism targets overall wellness, and when we are well, we only get better with age.
Eat the best food that you can afford to give your body the building blocks it needs for optimal health, longevity, and looking good for as long as possible 😉
Please share this post with anyone who can benefit from it. Sharing is caring! And follow me on Pinterest!
Until next time, here's to our health!
-Irma 🙂